If you look at the updates page of your WordPress site and think, where do I start?, then I can help you.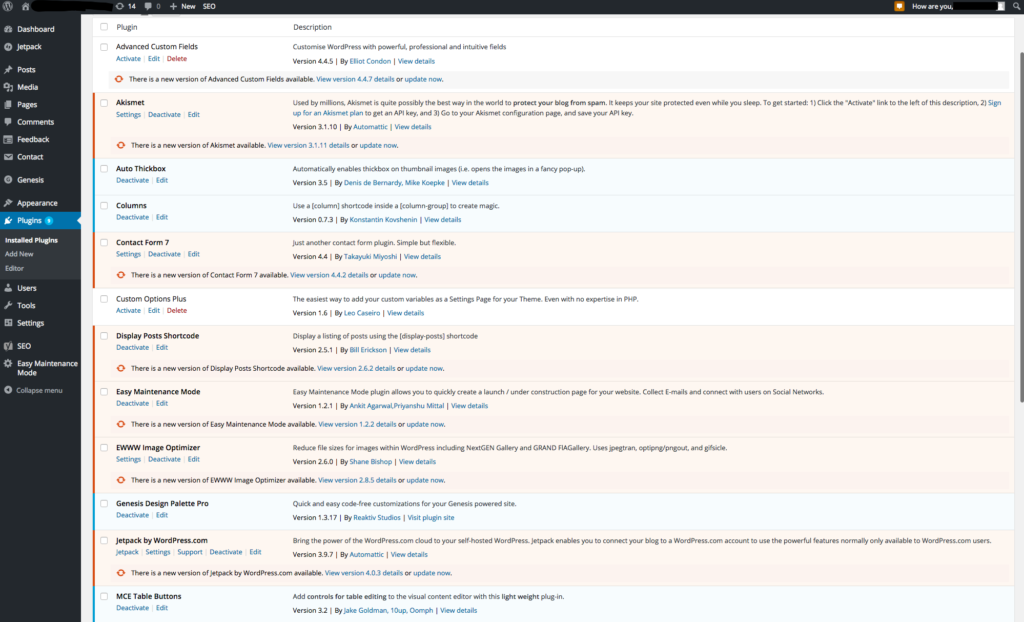 As the WP Site Manager, I specialise in managing and maintaining WordPress websites. I do not offer 100's of services for all things WordPress, I know my market and like to stick to it. Like this website, I keep things simple and to the point, I would much rather offer you one focused service and do it well so you have confidence in what I can do to support you and your business.
I use a selection of carefully selected and tested services for reporting, running backups and monitoring your website site, I like to think I look after your site as if it were my own. Updates are on sites are only ever run manually after a backup has been made, so I can be sure that they are run correctly and that everything works ok after the update. If for any reason something does break, or you find a problem, I can roll your site back to the version before the updates.
I take a proactive approach with all the sites in my care, if I see things wrong with your site, I will tell you and look at ways to help you fix them.
My WordPress management and maintenance services are:
Backups
I will make regular backups of your site so should you ever need to, you can restore your site to a previous version. Backups are securely stored on encrypted cloud servers.
Housekeeping
I can take care of the housekeeping for your site, emptying the spam, removing old post & page revisions, checking for broken links and keeping your database tidy.
Malware scans
Regular malware scans of your site will make sure there are no infections, malicious links or other nasties on there. If I do find anything of concern, I will contact you and discuss how we can deal with the issue.
Updates
Making sure your WordPress installation is up-to-date is the first line of defence when it comes to making sure your site is safe and secure. I will run updates on your site for you, closing any loopholes or security vulnerabilities. Before I run any updates, I take a backup of your site. I also check for any possible conflicts or potential issues before I apply the updates.
Uptime monitoring
I can set up a monitor which checks your website every few minutes to make sure that it is online and working for you. If your site goes offline for any reason, then you will be notified by Email or SMS so you can look into the reasons why your site is not working. I will be on hand to help you with any issues, should you need me.
Publishing
I can, for a small additional monthly fee, publish your posts for you. I do not write copy or source images, I will take your copy and run it through a professional grammar checker then I will make sure it is formatted perfectly, your images are in the right place, with alt text and captions and I will hit the publish button for you.
I offer this additional service to my WordPress site management because I know from experience, things don't always look as you want them to when you publish them. Your time is better spent servicing your clients and business and not getting frustrated about why the text in your latest blog post isn't the right size.
GDPR compliance
I have partnered with iubenda to provide GDPR, Cookie and consent services for my clients. If your site hasn't got measures in place around cookies and privacy then I can help you. You can read more about the iubenda service I provide here.
WordPress site building
I do build a small number of WordPress websites for clients.  I look at each request to build a site along with the client requirements to make sure that we are both a good fit for each other. I like to work with interesting people on interesting projects that are well scoped and defined. Websites and clients who do good things will certainly get my interest.
WordPress site hosting
I use a number of carefully selected partners to host my websites, I can arrange to host your site on one of my dedicated WordPress hosting solutions.
If you would like to start the conversation about how I can look after your WordPress website, help your business or how we can work together, use the form below to contact me.